I love nothing more than discovering a new brand that ticks all the boxes, and this brand I have stumbled upon incorporates all the elements on my wish-list: style; luxuriant fabrics; and interesting use of techniques (such as embroidery, pleated prints and well thought out silhouettes.)
However, I seem to be a bit behind on the '& Other Stories' bandwagon, as everyone seems to love this company already.  But, this brand really does encapsulate everything I am looking for… apart from in the one area, where it spectacularly misses the mark.
After good old Zara established its more refined and elegant sister brand: 'Uterque', H&M soon followed suit with their more sophisticated '& Other Stories' (which not many people seem to know that H&M is behind.)
But both 'Uterque' and '& Other Stories' are aimed at slightly older, aspirational women who have a little more cash to splash  and yet want a little more than the average H&M.  Imagine '& Other Stories' as the older sister's wardrobe you always envied – and, no matter how many times you rifled though it, you were always able to find something new and exciting.
 I never meant to select so many items when placing my first ever order with them online; let alone aiming to choose almost my entire outfit  from them.  But that is exactly what I did, and this goes to show how much I love their collections.  There is, however, one massive drawback in their online ordering process and it has actually put me off ordering online from them again.  Their archaic returns system is mind-numbingly awful.  With ALL online retailers from ASOS and H&M to Net-A-Porter making returns so easy – how on earth can a company owned by H&M, have such an outdated and infuriating returns policy?  No amount of gorgeous clothes and accessories can make me go through that nightmare again.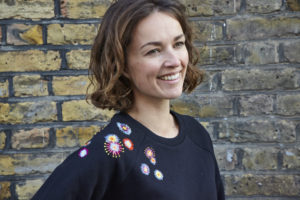 I found myself in a situation where I had to repackage my return parcels to weigh less than 2kg each (otherwise I would be charged if the parcels weighed more!)  I was therefore expected to weigh my parcels individually before heading to the post office.  It became almost farcical when I was advised to separate a pair of boots I was returning into two packages – one boot in each parcel!!
However, I was also informed that they are working on creating a better, more customer friendly returns experience.  I really do hope so, as the clothes and accessories are lovely!
 Anyway, back to the clothes.  I  love nothing better than a fun print, and I just couldn't resist this fantastic knee length skirt with it's bright goldfish detailing.  The knee length skirt is ideal for running around after the sprogs in the playground accessorised with a pair of trainers, or with knee length boots for a casting or meeting.  If this wasn't enough to get my pulse rate jumping, I also  found this cool, easy to wear navy sweatshirt, with what I can only describe as colourful embroidered dandelions.
So, come on '& Other Stories'… sort out your returns policy and you will have one happy, dandelion and fish covered customer!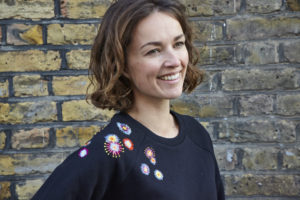 Dandelion Pleats skirt
here
.
Dandelion Embroidered Sweatshirt
here.
Single Button Maroon coat
here
.
Burberry Polo boots old, similar
here
.