Gone are the ASBO days of the nineties, and early naughties where anyone wearing a hoodie was arrested, or at least let off with a caution.  The ASBO police would have a hard time nowadays at the fashion weeks, with half of the fashion industry trotting around in hoodies.  That old guilty pleasure of stealing your other half's baggy 'Stüssy' hoodie has now translated itself into a verifiable fashion behemoth, and this is one trend that, frankly, I am all over like a sweaty rash.
This one, from H&M, is manna from hoodie heaven.  Every time I wear this little number, I get so many compliments and lots of guesses about where it is from…  But nobody guesses that it is from H&M; and that it costs under 30 squid!  Not only is it a bargain, but it is a hoodie for all occasions – so it has become a truly hardworking item in my wardrobe.
The detailing around the neck is what sets this hoodie apart from its competitors.  After countless washes, the neckline it still keeps its shape, and the long thick drawstrings give this top both length and character.  It is very oversized which keeps it relaxed, and makes it so easy to wear.  The dropped shoulders are a flattering feature, and give this top an air of effortlessness.
I have been wearing this grey marl hoodie non-stop.  On the school run, to castings, on the beach, to supper with a pair of heels; and I will even wear it skiing down the mountains… and also at the mountain bar drinking my rum hot chocolates!  This is truly a top that can be worn anywhere.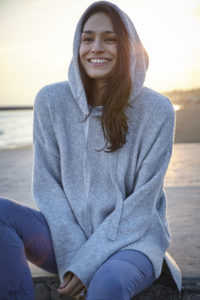 H&M knitted hooded jumper in grey marl is here.