Had we kept hold of all those bold, branded t shirts we loved to wear back in the 90's, we are certain that we would now be back on trend with a very loud bump! However, the Naf Naf, Benetton and Jane Norman ( remember them?!) logos do not quite make the cut the second time around, and with logo t shirts back in the fashion spotlight, we have hunted down two of our favourites.
Logo t-shirts are clearly nothing new, but this season,"the logo" has been bigger than ever, with the big designers splashing their logos across oversized boyfriend t shirts for all to admire and wear.  There is something slightly cringe-worthy about wearing clothes that are so heavily branded- it emanates a certain vibe… the "look at me, and how much I spent on my outfit" vibe.  But, when we found ourselves clicking on that dangerous Buy It Now button and buying this fabulous glitzy, loud and proud sleeveless Balmain T-shirt, we knew the times, and our opinions had changed!
The gold military buttons across the shoulder add a little glam and masculinity to this fun top- Caroline loves the shape and feels like a rock star when wearing it (even if her musical capabilities are nothing more than nursery rhyme standard.)  With some Victoria Beckham boyfriend jeans, she is relaxed enough to hit the playground, and yet with the fancy Balmain label, can also hit a casting or an important meeting.
This Tommy Jeans 90's Logo T shirt is both fun and harks back to an era where GCSEs and A Levels and Mix tapes were de rigour.  The classic colours are a nice contrast to the glitzy, gold Balmain, and if ever a Logo transcends time, then the Tommy Jeans logo is that.   Slightly oversized, this T shirt is super soft and is such a flattering shape as the large felt appliqué logo draws the eye away from the body and towards the strong colours.  The short sleeves and the classic crew neckline make this t shirt a wardrobe classic, and one that can be worn on any occasion.  So….. logo us up, these two mamas going Logo- tastic!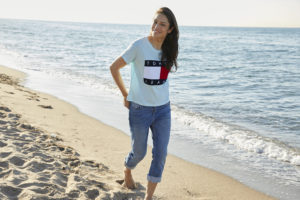 Red Balmain Logo T shirt is
here.
Victoria Beckham  shirt
here.
Tommy Jeans 90s logo T shirt
here.
Boden Cavendish Side Stripe jeans
here.