As I impulsively decided to take all three boys swimming on my own on Mothers day on Sunday morning, it dawned on me as Cbeebies was blasting out in the background, that the only swimsuit I had was a Zoggs maternity one, and that all my other swimwear consists of bikinis. The Zoggs swimsuit served me well throughout my three pregnancies. Here it is: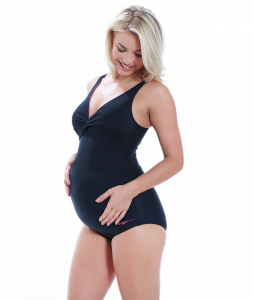 But now, one year after my third pregnancy and no plans for number four (!!), it was time to put my trusty Zoggs to the back of my wardrobe and find a swimsuit that would tick the following boxes. And was not a bikini.
fashionable
flattering
good value
4)can be worn without the worry of anything falling out whist in the pool with three rambuncitons monsters, can also be worn on the beach and is fashionable.
Heres what I found:
Classic, elegant and working the summer one shoulder trend that was ubiquitous in the most recent fashion week and in flattering black, I plumped for his little number:
It has fared very well whilst I was pretending to be a dolphin and had my three sons hanging off me in the swimming pool! It also stayed put when being blasted by a cold outdoor shower after a sauna, as you can clearly see in this photo. Excuse the facial expression!